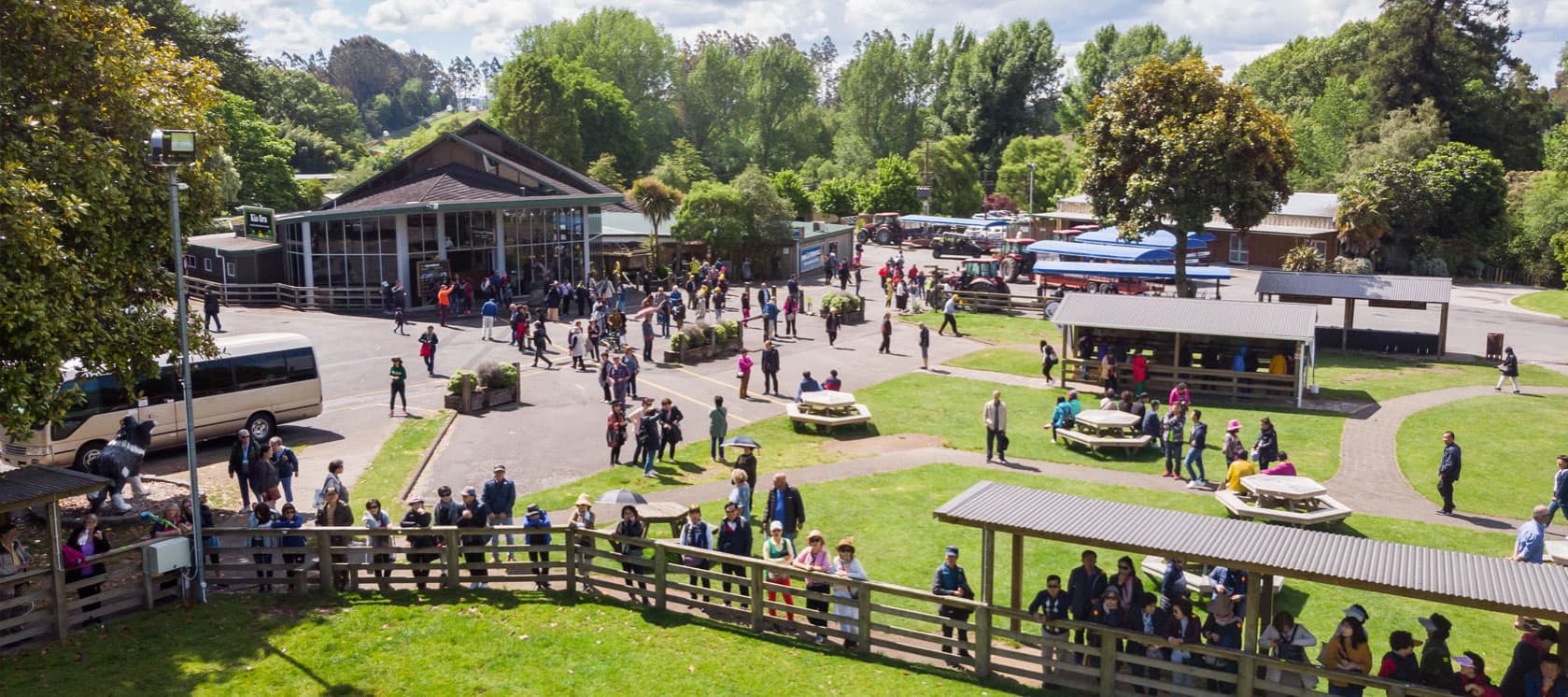 Sustainability
Our Sustainability Story
The Agrodome is committed to sustainable business and customer quality. We participate in a number of programmes which assist us to focus on continuous improvement and benchmark against others in our industry. 
Qualmark Gold
An internationally recognised quality assurance programme, Qualmark helps tourism businesses become more sustainable from a people, planet and profit perspective.
A Qualmark logo is a credible seal of approval that signifies high-quality experiences within New Zealand. Sustainable Tourism Business Award
The Agrodome is proud to be Qualmark Gold. The Gold Award recognises the best sustainable tourism businesses in New Zealand, with the delivery of exceptional customer experiences an integral part of everything they do. A Gold Sustainable Tourism Award identifies those businesses leading the way in making the New Zealand tourism industry a world class sustainable visitor destination.
ACC Tertiary Status
The Agrodome is committed to ensuring a safe and healthy workplace for our team members and our visitors.
The ACC audit standards have three levels:
Primary – Programme entry level requirement
Secondary – Consolidation of good practice
Tertiary – Continuous improvement good practice framework.
The tertiary level can only be achieved when an employer has a clear history of established systems, procedures and processes which function actively in the workplace. As a guide, most of the requirements should have been functioning over no less than a 12-month period.
The Agrodome is proud to consistently receive Tertiary status.
Our Environmental Care
The Agrodome is committeed to ongoing environmental sustainability. We seek to continually improve our systems and processes to minimise our impact on the environment. Current initiatives include:
a number of waste minimalisation and recycling initiatives
'responsible retail' initiatives
pasture management programmes
LED lighting
ongoing capital investment programmes to upgrade our fleet to minimise carbon footprint, with an aim to move to electric tractors in the future
The Agrodome is an active member of Rotorua's Sustainability Network. Our parent company Ngai Tahu Tourism is part of the Sustainable Business Council and a member of the 2017 Climate Change Charter. As part of this we take climate change seriously:
we measure our greenhouse gas emissions and publicly report on them
we set a public emissions reduction target consistent within 2 degrees of warming
we work with our suppliers to reduce their greenhouse gas emissions
we support the Paris Agreement and New Zealand's commitment to it
we support introduction of a climate commission and carbon budgets enshrined in law
Our Community Care
The Agrodome is proud to be active within the Rotorua community. In addition to sponsoring a number of local initiatives and not-for-profit organisations.
We are actively involved in the Rotorua Education Network and offer free school lectures on agriculture.
In 2018 we offered free Farm Show entry to those affected by the Ngongotaha flooding.